Staying with Jesus
Julian stayed with the vision of Jesus on the cross, holding the tension between the terribleness and horror of what she could see at that moment, and the reality of Jesus's words, knowing that since thereby God made the worst harm well (Adam's sin) God could also make well everything that is less bad, as Jesus insisted to her could be done in the face of all her questions and doubts.
In our own time, in our own sufferings private and global, we need to stay with the reality of the tension between what is happening now, that crucifixion in Ukraine and elsewhere, and the promise that Jesus's words contain. Not being indifferent to the distress, or treating it as a distraction, or denying our state of helplessness. Julian's genius was also in holding the tension between what she called the Two Judgments: how both the lower, flawed human judgment of things and people and God's own higher judgment of mercy and grace are to be reconciled and oned, and justice done, even though it seems from here that there can be no possibility of that.
If it is the case that we feel helpless and distressed, then our helpless distress itself is to be our offering as we stay with that tension of being in-between. We do that for ourselves, but also for those who are literally caught in-between, the Ukranian people and the Russian people.
As a way of staying with Jesus, we can pray the psalms and feel through the words of the psalms the fear, terror and pain of all those caught in the middle—those caught in crosshairs, between one doom and another, and those caught between the claims and directives of the state and of answering to the deeply moral human impulse. What we can gift to all these is our belief in their humanity, their need, the unimaginable straits in which circumstances have put them, and their hope of hope itself. This gift of believing and holding the pain of all our brothers and sisters in need is both deeply sacrificial and deeply simple, and is within reach of each one of us, whatever else we are called to do.
If we too stay with Jesus, we will bear Jesus to our world, and like Mary bear that cost. And yet as Gabriel said to Mary, we too are told, "Do not be afraid."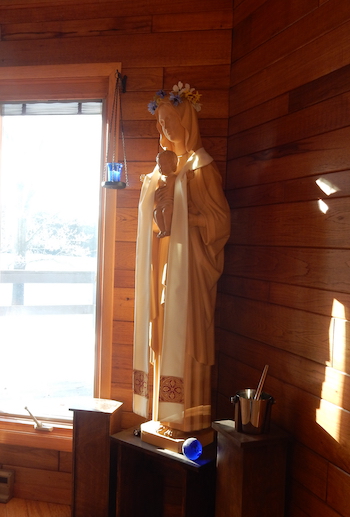 Recent Issues
July 2023
May 2023
January 2023
December 2022
October 2022
September 2022
July 2022
May 2022
April 2022
March 2022
January 2022
December 2021
November 2021
October 2021
June 2021
May 2021
April 2021
February 2021
January 2021
December 2020
October 2020
September 2020
August 2020
July 2020
June 2020
May 2020
April 2020
March 2020
February 2020
January 2020
December 2019
November 2019
October 2019
September 2019
August 2019
July 2019
May 2019
April 2019
March 2019
January 2019
December 2018
November 2018
October 2018
September 2018
August 2018
July 2018
June 2018
May 2018
April 2018
March 2018
February 2018
January 2018
December 2017
November 2017
October 2017
September 2017
June 2017
May 2017
April 2017
March 2017
February 2017
January 2017
December 2016
November 2016
October 2016
September 2016
August 2016
July 2016
June 2016
May 2016
April 2016
March 2016
February 2016
January 2016
December 2015
November 2015
October 2015
September 2015
August 2015
July 2015
June 2015
May 2015