Spending attention
Human beings are good at paying very close attention to something for a long time, and also good at paying very close attention to what, ultimately, is of little enduring consequence. It is the work of our lives, as humans, to learn what is worthy of our ultimate attention, and what is not.
The process of moving house offers an example of just how adroitly attention can be redirected. Suddenly all one's relations with objects can shift: what is dear about a place may become still more dear and beautiful; what is distressing, or troubling, may become bearable because time-limited. Likewise one's life in artefacts can shift—suddenly there is so much one doesn't need to hang on to, and the sorting and dispositions process may progress with a kind of ferocious joy.
In sum, this is the condensed version of the continual process of coming into life as a contemplative monastic person, and as a Christian. It is an even more-condensed version of our life now, in the Church and the world, as Christians in Advent awaiting the days that are surely coming. Either that day will come to meet us, or we will go to meet it. Either way, Jesus says we get to choose how we are going to do that. And we get to choose carefully what to pay attention to while we do.
In this season we are given grace, the merciful space to sit up straighter, to stand up and pay attention, see and understand the relative position—the relative value—of all the things in our milieu. Advent bespeaks our life as contemplatives even more so than does Lent. This is our season. The monastic life is a permanent icon, resident in the Church, of the grace, the urgency, the reality of Advent, of paying close attention to what ultimately matters. So let us be what we are with clarity, with attention, with joy.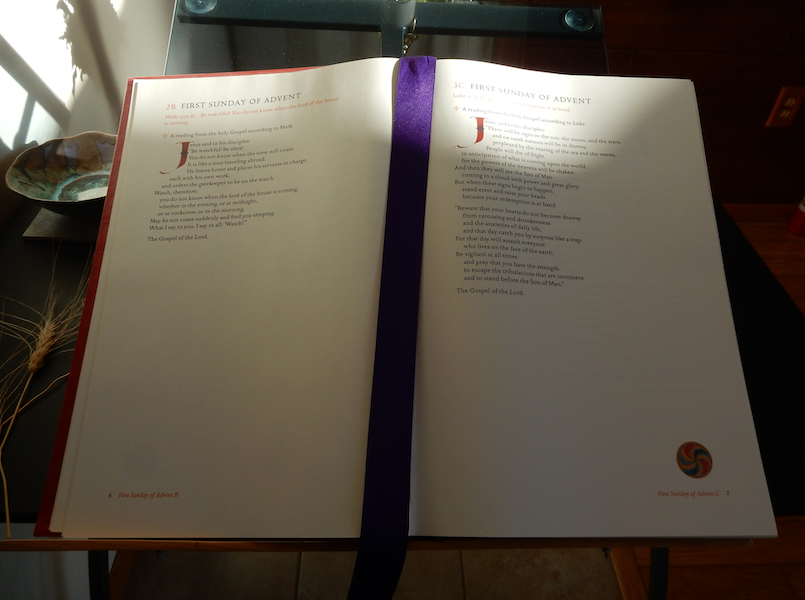 Recent Issues
July 2023
May 2023
January 2023
December 2022
October 2022
September 2022
July 2022
May 2022
April 2022
March 2022
January 2022
December 2021
November 2021
October 2021
June 2021
May 2021
April 2021
February 2021
January 2021
December 2020
October 2020
September 2020
August 2020
July 2020
June 2020
May 2020
April 2020
March 2020
February 2020
January 2020
December 2019
November 2019
October 2019
September 2019
August 2019
July 2019
May 2019
April 2019
March 2019
January 2019
December 2018
November 2018
October 2018
September 2018
August 2018
July 2018
June 2018
May 2018
April 2018
March 2018
February 2018
January 2018
December 2017
November 2017
October 2017
September 2017
June 2017
May 2017
April 2017
March 2017
February 2017
January 2017
December 2016
November 2016
October 2016
September 2016
August 2016
July 2016
June 2016
May 2016
April 2016
March 2016
February 2016
January 2016
December 2015
November 2015
October 2015
September 2015
August 2015
July 2015
June 2015
May 2015