Mercy & newness of life
Today we are turning thirty-three years old as a religious community. And we come into that maturity with a renewed understanding of our purpose­ — more importantly, a renewed understanding of how it is we are to carry that purpose out. There is no better descriptor of this renewal than in that paragraph from Mother Cristiana Piccardo that forms the initial epigraph to our constitution.
"The remembrance of mercy is the savor of truth in every circumstance. It signals the perception that God's mercy is present in every time and space of the human condition. Only through intense personal experience of this fact will we be led to pass from an arrogance that is easily scandalized, that sits in judgment on others, to a merciful compassion and openness to others. This is when our life becomes contemplative, a space charged with God's living Presence, a manifestation of saving Mercy."
So, three things that go together: Witness as leaven, the perception that God's mercy is present in every time and space, and personal experience of that fact.
We are not here to "fix" the church, to effect change upon the church by liturgical, or even by exemplary, force, but we are here to live a life for which God has mysteriously fitted us, a life modeled by St Julian that consists in paying attention to Jesus amidst whatever is currently unfolding. Like adding moisture to baker's yeast, it is that active response of paying attention, that listening, as St Benedict says — that tracking of divine mercy already present in every time and space that allows the witness of contemplative life to do the work it does. We see what God's mercy is already doing in the world, we try to embody that, to model it in microcosm, full stop. Like that yeast, doing what it does, quietly effervescent, and (at its best), joyously, without mind to the effects it is having, this mercy builds the unique structure that is the bread of community. That is our work, that is our life, and the spiritual effects of it are God's to direct and channel, to use for food where and as God will.
Let us walk into the new year, then, with a renewed eye, a sharpened ear, and a quickened heart to listen for mercy, to quietly become it here in our time and space.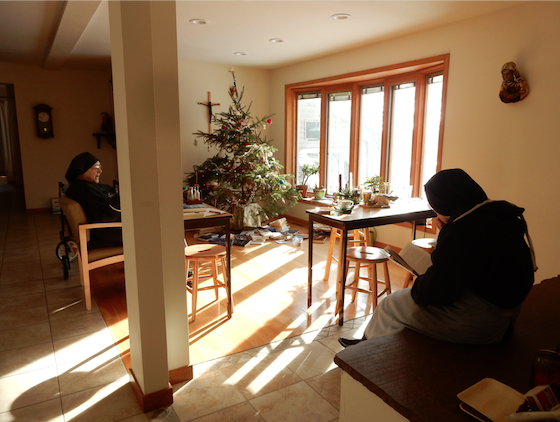 Recent Issues
November 2023
October 2023
July 2023
May 2023
January 2023
December 2022
October 2022
September 2022
July 2022
May 2022
April 2022
March 2022
January 2022
December 2021
November 2021
October 2021
June 2021
May 2021
April 2021
February 2021
January 2021
December 2020
October 2020
September 2020
August 2020
July 2020
June 2020
May 2020
April 2020
March 2020
February 2020
January 2020
December 2019
November 2019
October 2019
September 2019
August 2019
July 2019
May 2019
April 2019
March 2019
January 2019
December 2018
November 2018
October 2018
September 2018
August 2018
July 2018
June 2018
May 2018
April 2018
March 2018
February 2018
January 2018
December 2017
November 2017
October 2017
September 2017
June 2017
May 2017
April 2017
March 2017
February 2017
January 2017
December 2016
November 2016
October 2016
September 2016
August 2016
July 2016
June 2016
May 2016
April 2016
March 2016
February 2016
January 2016
December 2015
November 2015
October 2015
September 2015
August 2015
July 2015
June 2015
May 2015