Always learning
In the church I grew up in, the Second Sunday of Easter was always one of the two Sundays of the year (the other being the First Sunday after Christmas) when they turned the young people loose in the parish. They led the service, read the lessons, and gave the sermon. I suppose the rationale was that since these two Sundays had fairly sparse attendance, the fewest possible numbers of parishioners could take offence, just in case.
Once on this day in the very early 1970s, one of our high school guys got up and preached a sermon on the evils of using soap. Nearly fifty years later, my parents are still talking about this.
In our monastic practice, the guarantor of the prophetic witness of the Order's life in the midst of the Church is our genuine self-emptying love for one another, and each of us is called to mutual care, mutual cooperation, and mutual obedience, to take equal responsibility for the spiritual state of the community.
There were probably others besides my parents who were mystified—or mortified—by Doug's anti-soap sermon, but they never stopped coming and crucially, the parish never stopped allowing the young people the privilege of that form of service.
In our life in community we may mystify, even mortify each other, but we can be sure that God who called us together is also teaching us together, refining and enlightening our understanding of what we are to be about, and working in us the growing form of Jesus who is our life and our peace.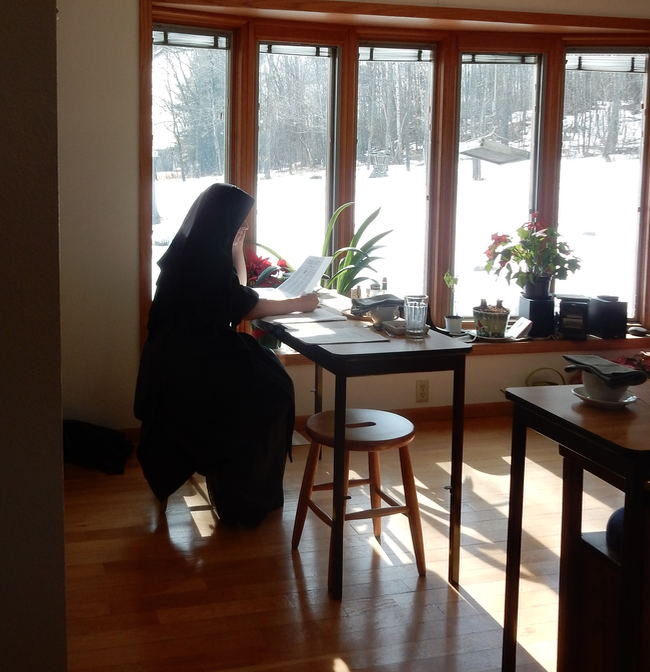 Recent Issues
November 2023
October 2023
July 2023
May 2023
January 2023
December 2022
October 2022
September 2022
July 2022
May 2022
April 2022
March 2022
January 2022
December 2021
November 2021
October 2021
June 2021
May 2021
April 2021
February 2021
January 2021
December 2020
October 2020
September 2020
August 2020
July 2020
June 2020
May 2020
April 2020
March 2020
February 2020
January 2020
December 2019
November 2019
October 2019
September 2019
August 2019
July 2019
May 2019
April 2019
March 2019
January 2019
December 2018
November 2018
October 2018
September 2018
August 2018
July 2018
June 2018
May 2018
April 2018
March 2018
February 2018
January 2018
December 2017
November 2017
October 2017
September 2017
June 2017
May 2017
April 2017
March 2017
February 2017
January 2017
December 2016
November 2016
October 2016
September 2016
August 2016
July 2016
June 2016
May 2016
April 2016
March 2016
February 2016
January 2016
December 2015
November 2015
October 2015
September 2015
August 2015
July 2015
June 2015
May 2015