Seeking
How do we seek God's face? In Chapter 49, after Julian had worked out her understanding that our estrangement from God must be due, not to God's non-existent anger but to our own self-wrath, Julian wrote, "When the soul is truly at peace with itself, suddenly, the soul is one-ed to God." When the soul is truly at peace with itself, at home with itself, when its self-fragmentation is healed, suddenly, the soul is one-ed to God. Julian would have us seek God's face in coming home to ourselves, truly recollected and at peace with ourselves. While she certainly agrees with those who identify our attachment to creatures as what prevents us from seeing God's face, perhaps Julian takes us a step deeper when she realizes that the root cause of our inability to see God's face, and the reason we are so attached to creatures or emotional states in the first place, is that we are estranged from ourselves. When we are at peace with ourselves, the need for the "everything else" that comprises the things we cling to is gone and suddenly we are one-ed to God.
So for Julian, in order to seek God's face, we have to seek reconciliation with ourselves. Perhaps the meaning of Julian's Revelations as a whole is to show us, her even-Christians, that the way to come home to ourselves, to allow our self-wrath to be slaked in the river of God's mercy and love is by, through and in Christ Jesus. The one single note which rings clear and constantly throughout all her "shewings" is God's merciful and graceful, homely, self-sacrificing love, revealed through and enfolding us in Jesus Christ. Insofar as we are in Christ, abiding in the mystery of the Incarnation, we come to experience and know the healing mercy and grace of God, which—through toil and tribulation and much daily penance and through the merciful shattering of our false-selves—finally does bring us to be at peace with ourselves.
Julian's whole wish for us is that we would live deeper in the context of God's merciful and compassionate love for us in Christ Jesus. In the depths of the mystery of Christ we shall discover the living streams of divine mercy and grace, which heal us, slake our self-wrath and allow us, in Christ Jesus, to be carried into the loving, unifying vision of God's face for which we so eagerly seek.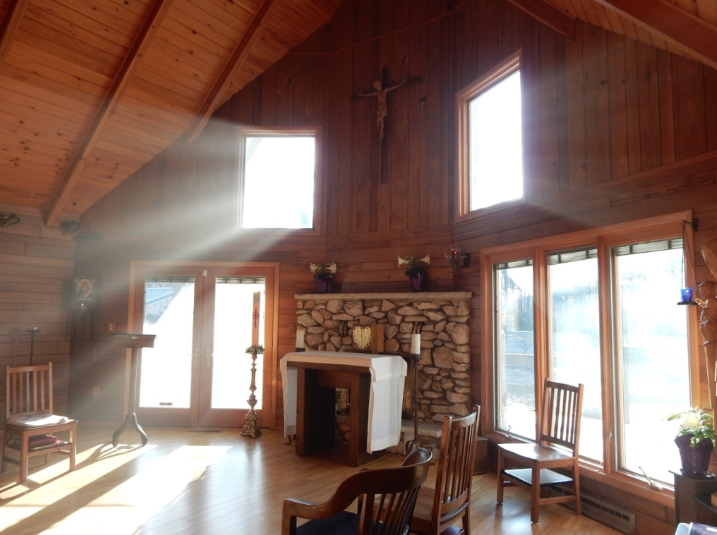 Recent Issues
November 2023
October 2023
July 2023
May 2023
January 2023
December 2022
October 2022
September 2022
July 2022
May 2022
April 2022
March 2022
January 2022
December 2021
November 2021
October 2021
June 2021
May 2021
April 2021
February 2021
January 2021
December 2020
October 2020
September 2020
August 2020
July 2020
June 2020
May 2020
April 2020
March 2020
February 2020
January 2020
December 2019
November 2019
October 2019
September 2019
August 2019
July 2019
May 2019
April 2019
March 2019
January 2019
December 2018
November 2018
October 2018
September 2018
August 2018
July 2018
June 2018
May 2018
April 2018
March 2018
February 2018
January 2018
December 2017
November 2017
October 2017
September 2017
June 2017
May 2017
April 2017
March 2017
February 2017
January 2017
December 2016
November 2016
October 2016
September 2016
August 2016
July 2016
June 2016
May 2016
April 2016
March 2016
February 2016
January 2016
December 2015
November 2015
October 2015
September 2015
August 2015
July 2015
June 2015
May 2015